#2 Main Difference Between Web Designer Vs Web Developer
Web Designer Vs Web developer
If you are thinking of pursuing a career as a web designer or web developer then this video is for you. It can be hard to know where to start and which road is the right one for you to travel down. Although there are some inherent similarities between the two roles they are very different in nature. One is focused on aesthetics and usability, the other is focused on code and functionality.
To help clear things up a bit, in this article I'm going to cover the roles, tools, and expectations of day to day life for both jobs. In the end, I share a few opinions on which is right for you to pursue.
Web designer vs. Web developer, what's the difference? This article tells the differences between the salary, job description, skills, tools, and how to make choice between them.
 What is a web designer?
Usually, web designers are responsible for the design of the visual layout of websites. Excellent designers are good at the using of a variety of concepts, such as color collocation, typesetting, spatial relations and user experience.
Through the use of graphic design software and prototyping tools, web designers could create the initial version of a website. Then the completed design will pass to web developers for coding.
Skills required
using coding software like HTML and CSS.
using design software like Photoshop and Illustrator.
strong creative skills.
the ability to pay attention to detail.
good problem-solving skills and a logical approach to work.
the ability to explain technical matters clearly.
 What's the salary for the web designer in the world?
As of July 30, 2018, the average salary of web designers is $ 73,204, usually, it's in the range of $ 62,669 to $ 83,659. However, it depends on various factors and may vary widely.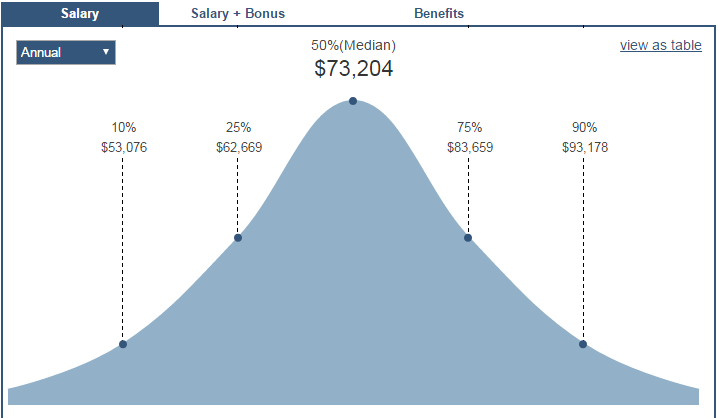 What is a web developer?
Web developers are generally considered as a group of people who use the left brain to develop the coding of products. Under normal circumstances, Web developers get the design of the page from the Web designer and then use front-end development technology to encode these pages. They do not really care if the page looks good or not, but they care about the clean code very much. Outstanding developers are always paying more attention to details and focusing on each of them.
Skills required
wireframe/layout a website or web application.
write HTML and CSS from scratch.
take a PSD and turn it into a working website.
add interactivity to a website with JavaScript (or jQuery).
write a basic application in an object-oriented programming language like Ruby or Python or PHP.
 What's the salary for web developers in India?
As of July 30, 2018, the annual salary for Web Developer III is $ 101,962, usually in the range of US $ 92,359 to $ 116,497, depending on various factors and may vary widely.